A manufacturer of tile and stucco adhesives in Mexico, Grupo Fortec, was looking to implement a bulk palletizing system with robotic technology for roughly 44 and 88 lbs. of ceramic adhesive packages. Previously, the handling and packaging of this material was a manual process. Now, the manufacturer was exploring for a way to fully automate the process, to improve productivity, and keep their employees safe.
The Bulk Palletizing Solution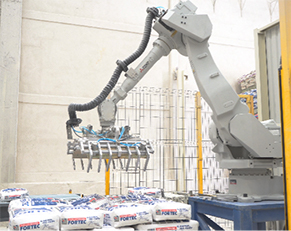 A production line is comprised of two automatic packaging machines, a chain extraction belt system, a weighing solution, bag positioners and roller conveyors. Plus, a robotic cell with an articulated arm and a load capacity of around 175 lbs. was added for handling the bulk products with an adjustable gripper that fits the dimensions of the two bag sizes. For the control side, PLCs, HMIs, variable frequency drives (VFDs), and other required components were networked across this distributed discrete and analog system through CC-Link IE Field.
The Benefits of  the Robotic Application Solution
A robotic application was built according to the requirements of the plant in collaboration with Koatli Industrial Engineering. Moreover, the solution allowed them to increase production by 30%, a with savings up to 20% of total operating costs. In addition, the system has the capacity to increase production as demand increases.
Mitsubishi Electric Automation Solution:
RV-F Series Large Format Robot
Q-Series Programmable Logic Controller (PLC)
GOT Series industrial Human Machine Interface (HMI)
FR Series Variable Frequency Drives (VFD)
CC-Link IE Field
Read the full Mitsubishi Electric application story:  Grupo Fortec Case Study
We are an authorized Mitsubishi Electric distributor partner in Wisconsin and Illinois.
We can help get your questions answered or provide you with a quote!