Damaged pallets have to be detected before they are sent back out into the world again. A reflex array sensor reliably detects all kinds of pallets and reduces the investment of sensors in comparison to a small light grid.
T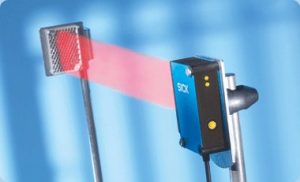 hings are extremely busy at CHEP´s Belgian site in Bornem, with dozens of trucks arriving and leaving every hour, bringing in stacks of blue pallets and picking them up again. Pallets which are sorted, inspected and repaired on site, so that they can be sent back out into the world again. But the quality of all these pallets isn´t the same. How do you detect damaged pallets?
100 mm. Such a light array can detect a pallet perfectly, even if (for example) one block of the pallet is missing. Due to the continuous automatic adjustment of the switching threshold the sensor still works perfectly after 4 months operations in that harsh, dusty environment. Fast and easy in commissioning The two reflex array sensors were installed very easy. Only one sensor, only one power supply connection and only one reflector. The red light array – thanks to the PinPoint LED – is visible very well on the reflector. Furthermore the alignment of the reflex array sensor is supported by an optical alignment. Extension of reliability with the active contamination compensation The reliability of an optical detecting system is reduced due to dust depending on the operating time. The continuous adjustment of the switching threshold keeps a constant distance between the signal and the threshold over a certain time period. This new active contamination compensation increases the availability of the reflex array sensor significantly. That means the cleaning intervals for the optical surfaces will be extended and finally the effort will be reduced.
This is an application story from SICK.
Tri-Phase Automation is a SICK distributor in Wisconsin.
Contact Tri-Phase Sales or Get A Quote