SoftPLC handles biomass electric power plant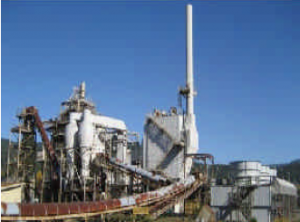 In Northern California, SoftPLC controllers, Tealware I/O and Web Studio are used by Blue Lake Power in their biomass electric power plant. The plant was originally a coal-fired plant that has been converted to burn woody waste. It uses wood chips as its mains fuel source for a conventional boiler which powers a steam-turbine generator.
Four SoftPLC's are used for material handling, for both the input fuel and the ash by-product conveyors, and for all of the process control. Hardbook CPU's with remote Tealware I/O connected via Ethernet are used for all the systems. Web Studio is used for the plant SCADA system which includes a redundant server, several desktop client stations and two large LCD displays in the control room. Web Studio is also used as the HMI running on portable tablet PC's by the maintenance crew.
The Blue Lake plant adds over 93,000 MWh of renewable power to California's grid and provides significant economic and environmental benefits for the city of Blue Lake and the state of California. The plant's fuel procurement plan improves forest health, reduces hazardous fuels, and provides stability to the woods industry and local communities.
This application success story is from SoftPLC
Tri-Phase Automation is a SoftPLC distributor in Wisconsin.
Contact Tri-Phase Sales or Get A Quote