To protect a handling machine against moisture, a C2000 Safety Light Grid with an IP67enclosure rating has been installed.
At a French Camembert factory, employees often work near hazardous areas such as stack collectors. Since hands and fingers are most susceptible to injury, a reliable safety solution that doesn't interfere with the production process is required. At an ambient temperature of 77° F, the safety system has an atmospheric humidity of up to 85 percent. The machine must be washed off once or twice a day using alkaline or acidic cleaning agents. Cold water (41 to 50° F) at a pressure of 40 psi is also used for rinsing and cleaning.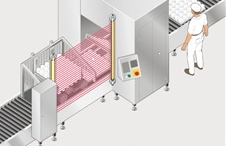 The compact design and PMMA acrylic tube housing of the SICK C2000 Safety Light Grid is ideal for use in this harsh environment. The protective housing was designed without trap points for dirt or contamination. A pressure equalization membrane integrated into one of the end caps prevents the penetration of moisture and ensures condensation does not form on the window. The cable entry is provided using proven PG cable glands.
The resistance of the materials used for the IP 67 housing series and the cable was positively assessed in material compatibility tests performed by Ecolab (Henkel) for the cleaning products P 3 (P3-topax 56, P3-topax 66, P3-topax 91, P3-topactive 200, P3-topactive DES). The low pressure foam method (COP cleaning and disinfection) for the food processing industry is recommended.
The C2000 Safety Light Grid is an electro-sensitive protective equipment of Type 2 in accordance with IEC 61496. The parallel light beams generate a flat protective field in front of the dangerous area. Any Unauthorized or inadvertent movement within the running machine by an employee results in the interruption of one or more light beams. The evaluation electronics for the C2000 detect this situation within a few milliseconds and immediately generate a shutdown signal for the stack collector.
Using the C2000 Safety Light Grid in an IP 67 housing ensures reliable protection despite harsh ambient conditions. The machine protection meets not only the requirements in relation to hygiene, resistance to cleaning, availability, and safety, but also the requirements in relation to ergonomics and productivity, as the stack collector is always accessible when shutdown.
This is an application from SICK.
Tri-Phase Automation is a SICK distributor in Wisconsin.
Contact Tri-Phase Sales or Get A Quote