The Advantech UNO-2170 was used as a rugged remote monitoring system, interfaced with several different vendor products to provide feedback to the Energy Management center through Ethernet.
Wind power generation systems are always installed in very harsh environments with extreme temperatures (for example, offshore environments might be below -10°C), with an abundance of dust and vibration. Under these circumstances, applying an IPC with a fan as the host platform will result in reliability problems and system crashes. One of our customers aimed to design a reliable power generation monitoring system, and they were looking for a compact platform that could be easily installed to replace their traditional IPC system.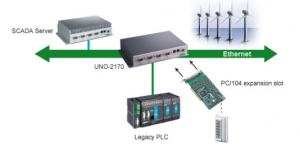 The wind power generation monitoring system is a dedicated application based on Windows 2000/XP. It needed a high performance platform rather than a general platform for Windows CE. Equipped with an Intel Celeron M 600 MHz or Celeron M 1.0 GHz CPU and Onboard 512 KB battery-backup SRAM, UNO-2170 is a powerful model that provides Windows CE 5.0 & 6.0, Windows XP Embedded, and Linux ready solutions.
This application success story is from Advantech
Tri-Phase Automation is an Advantech distributor in Wisconsin.
Contact Tri-Phase Sales or Get A Quote