Galil places Hi·Art® treatment system within 1 mm accuracy
Challenge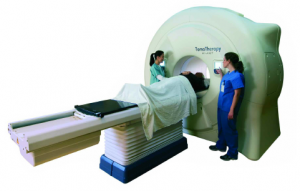 Focused radiation is an effective means for treating cancerous tumors, particularly when there is a clear-cut shot at the target. Getting a clear-cut shot is no simple task. To address this challenge for clinicians, TomoTherapy Incorporated of Madison, WI, developed its Hi·Art® treatment system, a radiation therapy device that effectively utilizes 3D CT imaging to ensure accurate treatments for patients on a daily basis.
Application Solution
Essentially, the patient lays on a table or couch that slides into the rotating gantry for continuous 360° delivery of helical IMRT that uses tens of thousands of narrow beamlets, all targeting the tumor and individually-optimized to contribute to the total tumor dose. Handling the x-y-z motion of the couch is Galil Motion Control's integrated DMC-2153 5-axis controller.
Benefit
The x-y-z motion controllers place the table to within /- 1 mm accuracy, and TomoTherapy is moving toward sub-millimeter accuracy in future models.
This is an application of Galil.  Tri-Phase Automation is a distributor of Galil in Wisconsin.  For more information, contact Tri-Phase Automation Sales or Get A Quote